Disclaimer: Some links in this article may be affiliate links. These links may earn us a small commission, but rest assured, our reviews are unbiased and not influenced by these affiliations. Your trust is our priority, and we are committed to providing honest assessments of the products we recommend.
So, you've decided to embark on a musical journey or perhaps add another six-string companion to your collection? Well, you have come to the right place. This article will help you get a fair idea of what are the key things to keep in mind, before buying a guitar online.
We understand that in India, buying a guitar online can be an overwhelming experience with so many options and opinions. But fear not, as we are here to simplify the process for you, keeping in mind the unique preferences and budget considerations of Indian musicians.
In this comprehensive guide, we will provide you with expert advice, invaluable insights and of course, our top picks, ensuring that you make an informed decision when choosing the right guitar in the Indian context.
Whether you're an experienced musician or a complete newbie, by the end of this article, you'll be equipped with the knowledge to enjoy guitar in India.
Table of Contents
What's the Guitar Scene in India like?
Before we get into the details, let's take a moment to appreciate the rich tapestry of the guitar world in India. Guitars come in a variety of shapes, sizes and styles, offering a unique playing experience to suit every Indian musical taste. Whether you are interested in acoustic, electric, classical or even bass guitar, there is something for every Indian musician. But with great variety also comes great responsibility – the responsibility to choose wisely!
Acoustic, Electric, or Classical: Which One's for You?
The first step in your guitar buying journey in India is to decide between an acoustic, electric or classical guitar, each of which has a place in the Indian music scene.
Let's break it down:
| Acoustic Guitars | Electric Guitars | Classical Guitars |
| --- | --- | --- |
| Acoustic guitars produce sound through the vibration of their strings, which resonate in the hollow body. | Electric guitars use pickups to convert string vibrations into electrical signals, which are then amplified. | Classical guitars have nylon strings, which produce a sweet and warm tone. |
| Ideal for playing Indian folk, Bollywood and contemporary Hindi songs. | Popular among Indian rock, blues, fusion and Bollywood session musicians. | Traditionally used for playing Indian classical and semi-classical music such as sitar or veena compositions. |
| They come in various body styles such as dreadnought, concert and parlour, each with their own tonal characteristics. | They offer a wide range of tones and effects, making them versatile for different Indian music styles. | Perfect for those wishing to explore the rich heritage of Indian classical music on guitar. |
| Perfect for soulful, unplugged performances at home, while camping or at small gatherings. | If you dream of playing electric guitar solos or creating Bollywood rock anthems, this could be your choice! | |
Table: Comparing Different Guitar Styles
Setting a Budget: How Much Should You Spend?
It is extremely important to determine your budget while shopping for a guitar in India. Guitars in India come in a wide price range to suit different budgets.
Here's a rough breakdown for Indian musicians:
Entry-level guitars (₹5,000 – ₹25,000)
Ideal for beginners and those looking for budget-friendly options. These guitars offer good quality and are great for learning and practicing.
Mid-range guitars (₹25,000 – ₹75,000)
The sweet spot for many Indian musicians. You will find a wide range of quality instruments with excellent playability and sound in this range.
High-end guitars (₹75,000 and above)
If you are a serious musician or professional artist, it is worth considering investing in a high-end guitar. These instruments are crafted with precision and often deliver exceptional tone.
While it's tempting to play a high-end guitar, remember that your skill level and intended use should guide your budget in the Indian context. A beginner does not need professional-grade equipment, and an expert may need different guitars for different musical styles.
Buying a Guitar Online: Key Factors for Indian Musicians
Now that you have a grasp on the basics, let's dive deeper into the decision-making process of buying a guitar online for Indian musicians. When choosing your ideal guitar, there are several essential factors to consider keeping in mind the Indian music landscape. Let's explore these factors:
Playability in Indian Music Context
Playability is paramount for any guitar, especially in the context of Indian music. It shows how comfortable and easy it is to play the instrument. Here are some aspects to consider:
Neck Profile: Pay attention to the shape and thickness of the neck. One should feel comfortable while playing Indian ragas or Bollywood tunes.

Action: Action is basically the height of the strings above the fretboard. Low action is usually preferred for ease of playing complex Indian classical compositions, but it should be set to avoid buzzing.

Fret size: Fret size affects how the guitar feels under your fingers. Make sure it matches your style, whether you are into Bollywood or playing

Fusion music.
Sound Tailored to Indian Music
The sound of the guitar is important, and for Indian musicians, it must suit the tone and nuances of Indian music. Here's what to consider:
Tonewoods: The type of wood used for the top, back, and sides of a guitar significantly affects its tone. For Indian music, cedar, mahogany, or rosewood are popular choices for their warm and resonant qualities.

Body Style: Different body styles produce different tones. For Indian tunes, a dreadnought or concert body can provide the projection and resonance you need.

Pickups for Electric Guitar: If you are choosing an electric guitar for Bollywood events or fusion experiments, consider the type of pickup. Single-coil pickups provide clarity, while humbuckers provide a fuller sound.
Brand and Reputation in India
In India, brand reputation is essential, as it reflects the quality and reliability of the equipment. Look for well-established brands with a presence in the Indian market. Some of the respected names in the Indian context include Yamaha, Fender, Gibson, Ibanez and locally well-known brands like Givson and Kadence.
Build Quality and Craftsmanship
Indian musicians should prioritise build quality and craftsmanship, as these aspects ensure the reliability of the guitar over time. Look for signs of quality workmanship, such as smooth fretwork, impeccable finish and durable hardware.
Versatility for Indian Music
Think long term about your musical journey in the diverse landscape of Indian music. Although you may now have a specific style in mind, versatility in a guitar can be a valuable feature for Indian musicians. Instruments that can adapt to different playing styles and Indian musical styles offer greater value.
New vs. Used Guitars in India
The debate of new versus old applies to Indian musicians as well. Both options have their own merits. A new guitar comes with a warranty, pristine condition and reliability. However, used guitars can offer excellent value for money, especially if you are buying from a reputable source. Be careful and have a knowledgeable friend or technician evaluate a used guitar before purchasing.
Our Top Picks for Buying a Guitar Online on Amazon
Now that you're armed with the knowledge to make an informed decision, it's time to reveal our top picks that suit Indian musicians' preferences and budget considerations. Whether you're performing Bollywood hits, exploring classical ragas, or diving into fusion experiments, we've got you covered.
Best Budget Acoustic Guitar: Yamaha F310
A popular acoustic guitar recognised for its playability and warm, rich tone is the Yamaha F310. It is ideal for both new and seasoned players due to its strong design and comfy neck. Because of its timeless style and affordable price, it is a great option for musicians looking for high-quality sound on a tight budget.
Yamaha F310

Beginner's Delight

The Yamaha F310 guitar delivers rich, warm tones and clear, crisp notes, making it a top choice for exceptional sound.

With a comfortable neck and smooth fretboard, it's ideal for both beginners and experienced players.

Yamaha's reputation for quality and craftsmanship guarantees a trustworthy investment.
Outstanding value for your money – a budget-friendly option for quality acoustic guitars.
Best Mid-Range Acoustic Guitar: Epiphone Hummingbird Pro
At a more affordable price, the Epiphone Hummingbird Pro manages to capture the spirit of the expensive Gibson Hummingbird. This makes it affordable for a variety of musicians without compromising on quality.
Epiphone Hummingbird Pro

Punching Above Its Weight

Its renowned sound, characterized by rich, warm tones and balanced projection, sets it apart.
Equipped with top-notch electronics for amplification, making it versatile for live performances.
A slim neck profile and smooth fretboard ensure comfortable and effortless playing.
Epiphone, known for quality, ensures you're investing in a reliable and respected brand.
Best High-End Acoustic Guitar: Blueridge BR-140
This guitar produces a beautiful, full sound as it is made from a solid spruce top and high quality tonewoods. We love how it produces warm, balanced and powerful tones. Plus, it's really comfortable to play because of its thoughtfully designed neck and fretboard.
Blueridge BR-140

Exhibition of Excellence

The Blueridge BR-140 produces a tone that is deep, resonant, and has great projection.
Expertly crafted by hand with great attention to detail.
The retro sunburst finish and traditional dreadnought shape give it a timeless look.
The slender neck ensures effortless playability.
Blueridge's excellent brand reputation make it a great choice.
Best Budget Electric Guitar: Vault RG1 Soloist
The RG1 Soloist offers excellent value for money. In terms of features and performance, it performs favourably with expensive guitars while still remaining within reach. The high-quality pickups and electronics on this guitar enable a variety of tonal possibilities, ranging from pure and beautiful tones to powerful and distorted sounds.
Vault RG1 Soloist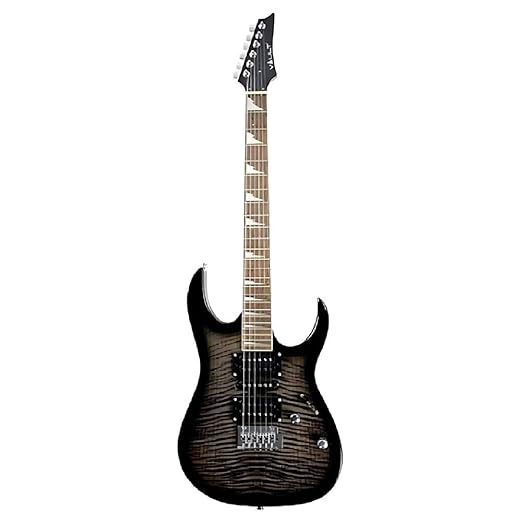 Smooth Player

This guitar offers a wide range of tones, from crisp clean notes to powerful distortion, making it suitable for various music genres and playing styles.
With a fast neck and smooth fretboard, the Vault RG1 Soloist allows for effortless fretting and rapid transitions between chords and notes.
Designed for lead guitarists, providing the tools needed to shine during solos and lead passages.
It offers exceptional quality at an affordable price point, making it accessible to musicians of all skill levels.
Best Mid-Range Electric Guitar: Fender Squier Affinity Series Telecaster
The Fender Squier Affinity Series Telecaster is a versatile electric guitar that suits a variety of Indian music styles. It offers quality construction and classic Telecaster twang, ideal for Bollywood and Indian rock.
Fender Squier Affinity Series Telecaster

Timeless Twang

Iconic Telecaster body shape and aesthetics – delivers that timeless, twangy Telecaster tone loved by musicians across various genres.
Dual single-coil pickups provide a versatile range of tones, from bright and crisp to warm and mellow – suitable for a wide variety of musical styles.
Fender's reputation for quality craftsmanship ensures durability and reliability, so you can count on this guitar for years of playing enjoyment.
Best Electric Guitar for Bollywood and Fusion: Ibanez RG550
The Ibanez RG550 is a versatile electric guitar for Indian musicians exploring Bollywood, fusion, and experimental styles. It offers a comfortable neck and versatile pickups for Indian musical experiments.
Ibanez RG550

Shredder's Dream

Lightning-fast playability and sleek design, making it a top choice for guitarists who love to shred.
Equipped with versatile pickups, this guitar offers a wide range of tones, from sparkling cleans to aggressive distortions, making it suitable for various musical styles.
Crafted with precision and top-quality materials, and built to withstand the rigors of stage performances and studio recording, ensuring long-lasting reliability.
Visual masterpiece that commands attention on stage with its s

triking body shape and signature sharktooth inlays
Best Classical Guitar for Indian Music: Cordoba C1M
The Cordoba C1M is a classical guitar designed for Indian musicians interested in classical and semi-classical styles. Its warm tone and playability make it an ideal choice for Indian ragas and compositions.
Cordoba C1M


Classical Comfort

Rich and warm classical guitar tone, making it an excellent choice for those seeking a beautiful, traditional sound.
Comfortable neck and low action make it easy to play for beginners and experienced players alike, promoting hours of enjoyable practice and performance.
C1M is built with precision and durability in mind.
Offers an impressive combination of quality and affordability, making it an ideal entry point into the world of classical guitar or a reliable choice for seasoned players on a budget.
These top picks for Indian musicians cover a range of budgets and musical preferences, ensuring there's a guitar best suited to your needs. However, remember that your personal relationship with the instrument and its compatibility with your Indian music journey is the ultimate deciding factor.
See More
Conclusion
Congratulations! Now that you have gone through our Ultimate Guide to Buying a Guitar Online, with insights tailored to the Indian music landscape, you are well equipped to make an informed decision when choosing the right guitar.
Whether you're strumming Bollywood tunes, exploring classical ragas, or diving into fusion experiments, let your guitar accompany you on a melodious journey through the diverse world of Indian music.
Happy strumming! 🎸🎶
Frequently Asked Questions (FAQs)
Buying a guitar online or from a physical store – Which is better?
Both options have their own merits. Buying online offers convenience and often a wider selection, but visiting a physical store in India allows you to try before buying, ensuring that the guitar suits your preferences and musical needs.
Do I need to learn to read sheet music to play the guitar for Indian music?
Not necessarily. While reading sheet music is valuable, many Indian musicians start with a simpler notation system, tablature. Learning to read music is beneficial but not mandatory for playing Indian music on the guitar.
How often should I change guitar strings for Indian music?
The frequency of string changes depends on factors such as playing style and the environment in India. As a general guideline, most musicians change strings every 1-2 months to maintain a lively tone.
Can I upgrade my guitar later, or should I buy a high-end one right away?
You can of course upgrade components like pickups or tuners on your guitar later. However, if you are a dedicated musician and can afford it, investing in a high-end guitar right from the start could be a wise decision, as it ensures quality and longevity for your music journey.
Disclaimer: Some links in this article may be affiliate links. These links may earn us a small commission, but rest assured, our reviews are unbiased and not influenced by these affiliations. Your trust is our priority, and we are committed to providing honest assessments of the products we recommend.